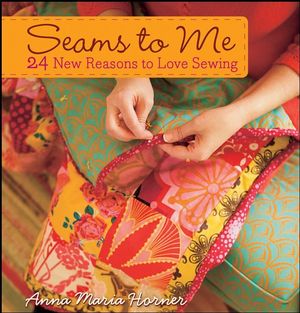 Wiley.com
describing
Seams to Me
:
"Admired fabric designer
Anna Maria Horner
draws on her passion for art, sewing, and textiles to inspire one-of-a-kind projects
Anna Maria Horner's
signature style combines the techniques of a seasoned sewer with the vision of an artist. In Seams to Me: 24 New Reasons to Love Sewing, she walks you through the fundamentals, offering practical advice on everything from fabric selection to color choices to choosing and buying a sewing machine. Simple step-by-step instructions show you how to turn her designs into fanciful creations:
* Sideways Squares Skirt
* Prairie Blouse
* Full Contact Cooking Apron
* PlayingAlong Quilt
* Doggie Dreams Bed
* And so much more!
Vivid full-color photographs and designs will invite you into the creative process. Whether you're a beginner or a veteran, the twenty-four projects in this beautiful book will transform your home and wardrobe into a collection of unique treasures."
Click
here
to buy the book!
Check out her blog
here
. It sucks you in, in a good way! I can't stop reading... Her fabric designs are modern and whimsical. I want to buy it all!
Come on tax return...
Happy spending,
Kelli