On another note, I just stumbled upon the first press, of sorts, that I've seen about anything I've done so far. I co-hosted a recycled fashion show called "Re:Fashion" in conjunction with the Swap-O-Rama-Rama in Oklahoma City on Friday, June 13. We featured a recycled craft and apparel sale alongside a mini runway show. It took months of planning but was very rewarding. This is the first write-up I've seen.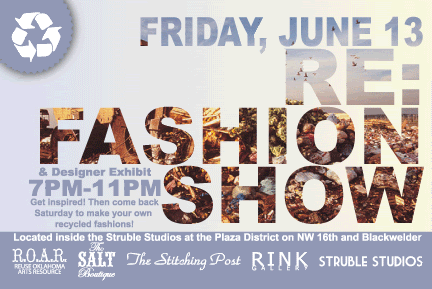 Here's the link to the full article:
click here
And here's my favorite part:
[Excerpt from "Re:Fashion Show Casts Recycled Clothes in New Light in Oklahoma City", Written by Stephanie Rasch.]
I press her (Stephanie Evans of Reuse Oklahoma Arts Resource) for more details but am shooed away with the name of the event co-coordinator to hunt down in the sea of second-hand fashion.
Kelli Crockett surprises me.
You'll have to forgive me for stereotyping but I picture the small middle-aged woman with glasses at a blackboard, not spray-painting old shoes and handbags to give them a fresh metallic look.
Out of everyone I've run into tonight, she is the most helpful. This probably has something to do with the fact that she isn't partying with the other artists at the free bar across the room.
She studied fashion and graphic design in college but quickly found that she felt more at home digging through junk at estate sales and thrift stores. "It's odd because my background is in fashion, which is all about the new, but I'm not big on fabric stores," Crockett said. "Everything I do is recycled."
A little while ago, a coworker told me about the first impression she had of me when I first started working with her. She said I looked like a librarian. She told me that the second day at work she thought I might be a naughty librarian because of all of my tattoos. That's the coolest compliment ever, even though it wasn't meant as one in the least. I've always had a secret dream of being a librarian.
On another note, I thought maybe my understanding of the term "middle-aged", which as what Stephanie described me as, might be off, being that I'm 26 and often mistaken for 19... Of course I turned to Wikipedia and the trusty ole US Census for an answer:
The US Census lists middle age as including both the age categories 35 to 44 and 45 to 54, while Erik Erikson sees it ending a little later and defines middle adulthood as between 40 and 65.
Eeeeekkk!!!
Now back to my lesson planning and putting anti-aging creme on my face... hah
Love always,
Kelli